We're looking for hard-working, responsible, and trust-worthy folks to join our tight-knit team. At Lansing Junk Removal, we try to be more like family than co-workers. Are you ready to get to work? 
TO APPLY:
Please send your resume to [email protected]
Please include a few different days and hours where we can schedule a Zoom Meeting for your initial interview.
Our hiring process is as follows:
1) You submit your resume with a few times available
2) We will complete an initial Zoom Meeting interview which take 10 – 30 minutes
3) If we decide to move forward, we will email you a DISC personality check.  There is no wrong answers.  It is just a way to learn your strengths and weaknesses.  For example, if your weakness is communication, we can help you to learn to communicate better.
4) After the DISC is completed, we will schedule an in-person meeting, usually 30 – 45 minutes.
5) Lunch: if you do well in person, I will buy you lunch and we can get to know each other personally and professionally.
6) Meet the team: we like for people to become part of our family.  So, we want you to meet our team.
7) On-boarding: You will need to watch some basic training videos, then we will work a short while in the field to make sure this is the right fit for you and us.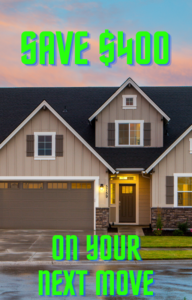 Download our FREE Move Guide on 

how to save $400+ on your next move!

12 Things you should double check when you move.  #5 and #7 could SAVE you $400 or more!